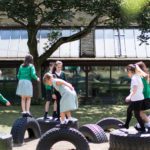 As part of our drive to encourage pupils to adopt a healthy lifestyle we run a daily Tuck Shop on the playground every morning.
Following much debate it was decided that we should encourage pupils to eat fruit and vegetables at playtime and as a result apples, carrots, bananas and other seasonal fruit and veg are sold along with small boxes of raisins. 
The shop is run by Y6 pupils who prepare the snacks and take charge of the money tin. They also keep a check on stock levels.
Prices are very reasonable with fruit and vegetables being sold for 10p each.
On Friday the children run a pocket money shop where small items such as stationery and small toys can be bought.