Welcome to Maths at Springfield Junior School
MATHS Curriculum Statement of Intent
At Springfield we adopt the Mastery style of teaching. This allows pupils of all abilities to make good progress in their work and have a deepened understanding of the skills they are taught.
Daily Maths lessons are taught in classes by the class teacher. The classes also have the support of a teaching assistant.
We follow the White Rose Maths planning and work our way through the topics using practical, pictorial, concrete and abstract learning. This allows all pupils to develop a deep understanding. We promote the use of The Singapore Bar as a way of understanding written problems.
In line with the government recommendation, the teacher does not move on to a new topic until at least 85% of the class have 'mastered' the area being taught.
At the end of each half-term the children sit a test which covers all aspects of the learning that term. The teachers use this test, alongside the work in pupil's books, to make a professional judgement on the level the child is working at.
Cross curricular Maths is included in many of the afternoon lessons which allows the children to apply their skills.
If you wish to further your understanding of Mastery or The Singapore Bar please see Mrs Staddon or have a look on the NCETM website
Times Tables Tycoons
Our New Times Tables Tycoons
Well done to our latest TTT stars!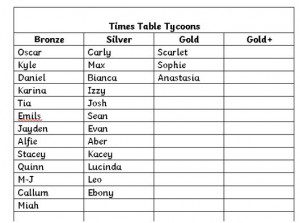 Times Table Tycoons
Bronze
Silver
Gold
Gold+
Zach
Archie          Leo
Katie
Erin-May
Grace         Lucinda
Riley
Louisa
Julija          Kacey
Scarlet
Alexa
Ryan
 Sophie
Alistair
Lara
 Anastasia
Faith
Owen
Oscar
Oliver
Chloe
Brooke
Carys
Sojfa
Thomas
Lydia
Ella May      Callum
 Ebony
Lacey          Tia
 Max
Ben             Emils
 Bianca
Ilana           Jayden
 Izzy
Kayla          Alfie
 Josh
Kyle           Stacey
 Sean
Imogen      Quinn
 Evan
Daniel           M-J
 Carly
 Karina       Miah
 Amber
Number Certificates
Bronze
Silver
Gold
Gold+
Quinn
Bradley
Cerys
Harrison
Chloe
Oliver
Alfie
Kassie
Alfie
Carly
Times tables test are held, in classes, at the end of each term.
You decide when you are ready to try for your certificate.
Certificates range from Bronze to Gold +
Once you have one certificate, you work towards the next.
Our aim if for all children to be Gold by the end of Year 6.
Now it's over to you. Learn your tables and become a
TIMES TABLES TYCOON
                       In order to get a certificate the children need to complete the following times tables
| | | | |
| --- | --- | --- | --- |
| Certificate | Tables | Time Given | Score to achieve (/60) |
| Bronze | 1,2,3,4,5,10 | 210secs | 50 |
| Silver | 1,2,3,4,5,67,8,9,10 | 180secs | 55 |
| Gold | 1,2,3,4,5,6,7,8,9,10,11,12 | 120secs | 57 |
| Gold + | 1,2,3,4,5,6,7,8,9,10,11,12 | 90 secs | 60 |
Tests include multiplication and division facts
ALL PUPILS ARE EXPECTED TO PRACTISE THEIR TABLES AS PART OF THEIR WEEKLY HOMEWORK
Number Ninja
Be a Number Ninja!
Not ready to be a Times Tables Tycoon yet? Then be a Number Ninja.
There are 4 Ninja levels, each testing your number skills.
BRONZE                   – 10 and 100 less or more than a given number
SILVER                       –  Number bonds to 10, 100 and 1,000
GOLD                          –  2 digit addition and subtraction
PLATINUM               – 3 digit  addition and subtraction
To get your certificate you need to get 25 questions correct in 2 minutes.
Are you ready to be a Number Ninja?
Number Certificates
Children who are not ready to sit their Times Tables Tycoons will be able to gain a certificate in Number. They are as follows:
Bronze – 10 and 100 more or less than a given number
Silver – Number bonds to 10, 100 and 1,000
Gold – 2 digit addition and subtraction
Platinum – 3 digit addition and subtraction
This term children receiving their TTT or Number Certificate will receive a badge as well as a certificate.
Tests will be held termly