I can't believe it's less than a week since our Y3 classes took part in the May Day celebrations at Eureka Park alongside the Y2s from Elmsleigh. All four classes did amazingly well after just one practice session each and I know that Charlotte (the lady who organised the event) was really pleased with how well it went and is already planning an even bigger celebration next year. Keep hold of the fabulous maypoles and put them in a safe place to use again next year!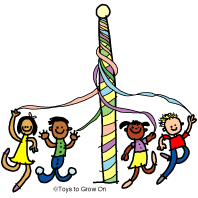 Next week is of course SATs for our Y6 classes and I must say that I am very impressed by the quiet confidence and calm demeanour of most of our pupils. As we have said many times in the past, as long as you have worked hard in preparation and listened to the advice given by the teachers then you are as ready as you will ever be to take the tests. View them as an opportunity to show what you can do and don't be scared; enjoy the challenge and have fun!
Mrs Williams has met with School Council today and I know that they had quite a few things to discuss including the lack of house points being handed out since class dojos were introduced and the possibility of holding a celebration to mark the school's 80th birthday.
The latter topic came about because Mrs Duggins was chatting to Mrs Williams and told her about an article she'd found when carrying out some personal research from a newspaper in June 1937 which reported on the opening of a new school in Swadlincote by Councillor Wragg; Springfield! We then looked on the Springfield history display which I've put back up in the reception corridor and found the order of service from the opening ceremony. It would be lovely to mark the occasion in some way and Mrs Williams is really keen to pursue this so make sure you give your council reps plenty of ideas and have your say about how we can celebrate.
Foresters were once again the team to beat in this week's house point race although as I mentioned earlier, we need to make sure there is a balanced mix of house and dojo points to keep the race fair and an accurate representation of what is happening throughout school. Hopefully School Council will find a solution to our dilemma!
Elephants topped the reading scores last week with Tigers taking the honours this week whilst Snow Leopards led the attendance race in a much improved week overall. Let's work hard to get those attendance figures back up above 95% (and ideally over 96%).
Thank you to everyone in school for working together to improve the way we move around school at break and lunchtimes; it feels much calmer and more orderly and I'm sure you'll all appreciate the fact that teachers are nagging a lot less!
Just before I sign off I want to remind everyone about the changes we made to attendance at after school clubs as part of our revised safeguarding procedures. If you sign up for a club there is the expectation that you show commitment and attend every week unless there are exceptional circumstances in which case your parents/ carers MUST let school know in advance. If half the football team fail to turn up for example it stops other children from being able to play a game as well as causing unnecessary worry whilst we check out exactly where you should be. Safety is paramount and we MUST get this right so please help us out and abide by the rules. Thank you.
On that note I'm going to sign off and gather together the letters you have written to send to Linda over in Sri Lanka. Hopefully I'll hear from her again over the weekend so I can keep you up to date with her latest news. I know she'll be thrilled to receive your letters so thank you.
Have a super weekend and I'll see you bright and refreshed on Monday morning.
Mrs Hughes
Blog Box question: what will school celebrate in June?